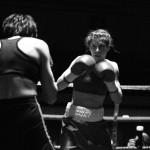 Please support Marianne's sponsors – click links below image:

JT CLARKE LONDON – BOXFIT UK – OPTIMAX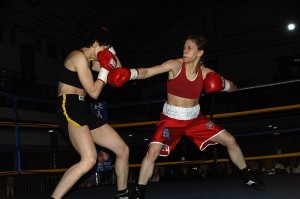 Prince, Ozgul Victorious; Disappointment For Marston in UK.
London's Marianne Marston was mightily unlucky not to secure the World Boxing Union European Featherweight title on Saturday, losing by a close split points decision to Czech Republic's Hana Horakova.
Marston got off to a good solid start, easily securing the first three rounds with quality jabs and stinging body shots, the fourth was a tad closer, Marston getting the nod in my eyes due to the quality of her work.
Early in the fifth Marston bore a pained expression and her movement became increasingly erratic, noticing that her opponent had a problem Horakova shifted up a gear and started pressuring the Londoner.
Marston put on a brave face and came right back in the sixth, doing just enough quality work to secure the round, even though the injury seemed to escalate in the seventh Marston more than held her own.
Going into the final round it was certainly close, Horakova shifted up another gear, throwing big rights at every opportunity, with just seconds to go the Czech girl landed a peach of a shot, rocking Marston, Horakova then threw everything she had at the off balance Londoner, but somehow Marston managed to stay on her feet until the final bell.
The fight was a cracker, a real close fought match, so no one was that surprised when it was announced that there was a split decision result, that came later as it was Horakova that had two judges score the bout in her favour and Marston just the one.
In a post fight interview with Sky Sports, Marston expressed her disappointment, that the injury, which had first surfaced during the final sparring session with Ian Napa just ten days earlier, had reemerged.
For full report go to – Fight Network Report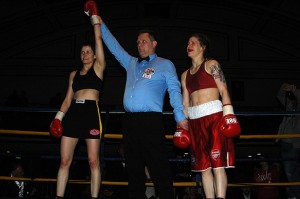 Boxing: Marianne Marston unsuccessful in European Featherweight Title bid.
Marianne Marston could not disguise her disappointment after coming up short in her bid to become WBU European featherweight champion at Bethnal Green's York Hall on Saturday night.
The 40-year-old lost a split decision to Hana Horakova after the three ringside judges scored the contest 78-75, 76-77, 77-76 in favour of the fighter from the Czech Republic.
The eight-rounder was fought at a frenetic pace and Marston explained a back injury forced her to tire during the latter stage of the fight.
"I feel like I messed up tonight and that I could have done better," she told skysports.com.
"It was a tough night for me. After the fourth round I started to struggle a little bit and maybe that was my mistake.
"I've had a back problem for a few weeks and it makes it difficult to do the movement I like on my right foot.
"When it kicks in it starts to affect my legs and of course that in-turn gives you trouble with endurance."
Horakova stepped in at short notice after Marston's original opponent Galina Gumliiska failed to receive medical clearance from boxing authorities in her native Bulgaria.
That bout was supposed to be for the super-bantamweight title, but Marston revealed contesting the vacant featherweight title against Horakova was a chance she had to take.
"She (Horakova) was a heavier opponent than I was supposed to face but I really didn't want to miss this opportunity," Marston said.
"That kind of messed with things but I still feel as though it shouldn't have really affected the outcome.
"I was already supposed to have this fight back in November but the show got cancelled and I did not want to miss out again.
Asked if she expected to return to the ring for another crack at a title, Marston said: "Yes probably."
Also on the bill was 44-year-old Mark Prince – father of murdered teenager Kiyan Prince – who continued his comeback by making light work of Olegs Lopajevs, knocking the Latvian out in the first round.
For full Sky Sports report click here
Please support Marianne's sponsors – click links below image:

JT CLARKE LONDON – BOXFIT UK – OPTIMAX
Save