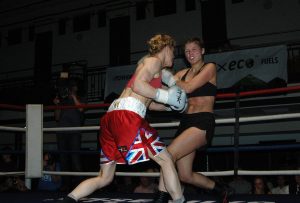 The final female bout of the night see Woolwich, London's British #1 ranked (Both Super Bantamweight and Pound-For-Pound) and reigning MBC International Super Bantamweight Champion Marianne Marston, in a non-championship six rounder.
As with Sam Smith, Marianne had many changes of opponent, nine in her case pulled out, in the build up and eventually faced Riga, Latvia's Jekaterina Lecko, who in June fought Germany's Alice Melina Kummer for the German Lightweight title.
Lecko paraded down the catwalk like she was a model, whilst Marston, an actual former model, made her entrance very much in fight mode, smashing her gloves together as acknowledgment to the cheers of support from the huge female contingent in attendance.
The difference between the two was even more noticeable when Marianne removed her sponsor laden T-Shirt to show her seriously ripped physique.
Marston went straight on the offensive, forcing Lecko to rely on throwing out her jab in a vein effort to prevent the Londoner getting within range, Marston not only got in range but once there she began giving the Latvian a boxing lesson she's unlikely to forget in a while.
Changing tactics Lecko resorted to running away as such, however Marston's ringcraft is of such a level that she was able to close down and cut off any escape route, before backing the Latvian on to the ropes with a vicious double handed attack, the result was devastating for Lecko who was sent to the canvas with just five seconds remaining of the first round.
Marston started the second in similar vein to the first, taking the fight to Lecko, who now began throwing huge right hands in an attempt to keep Marston at bay.
With this tactic failing, due to Marston's superior movement, Lecko reverted to going walk about, which suited the Londoner, who once again was able to cut off the ring and corral the Latvian against the ropes and begin another double handed assault, all Lecko could do was cover up and hope that Marston would punch herself out, she didn't and after what seemed an age, it wasn't but it seemed that way, referee Ken Curtis stepped in and waved off the bout to save Lecko from a guaranteed knockout, on the one minute and fifty second mark of the second round.