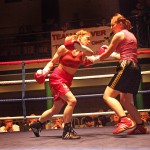 Please support Marianne's sponsors – click links below image:

JT CLARKE LONDON – BOXFIT UK – OPTIMAX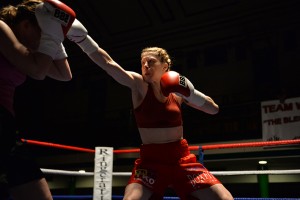 Main support see another professional debut, this time it was Marianne 'Golden Girl' Marston, the protégé of legendary Heavyweight Champion of the World Smokin' Joe Frazier.
Marston, who faced a late change of opponent in Hungarian Gabriella Roman, who stepped in after Aleksandra Jasjukevica pulled out just a few days previously, was intent on enjoying every single second of her well overdue professional debut.
On entering the arena Marston played to a legion of chanting fans, many wearing identical red BoxFit t-shirts to her own, each emblazoned with the legend 'Team Golden Girl' as well as sponsors TRAD TKO Boxing Gym, BoxFit, Optimax and Winkball, and more significantly a dedication to the memory of her legendary mentor Smokin' Joe Frazier, before standing and shadow boxing to her ring walk track 'Move' by Thousand Foot Crutch.
About a minute into the track Marston slowly began her ring walk, bumping gloves with the many admirers that lined the route.
Soaking up every moment of the occasion Marston finally entered the ring and once again acknowledged the highly vocal and appreciative crowd until the final chord of the emotive ring walk track.
Once referee Ken Curtis had completed his pre fight rule talk it was time for action.
Marston lithely prowled her way across the ring to meet her opponent head on with a massive right hand jab, closely followed with a big left, Roman was clearly stunned by the massive early assault, but still managed to cover up just as a second double handed barrage was thrown, closely followed up with a big left to the head sending the Hungarian girl to the canvas.
Roman recovered sufficiently to box defensively against the ever forward moving Marston, however after about twenty seconds or so Marston corralled the Hungarian in her own corner, with nowhere to go Roman covered up in preparation for yet another double handed assault.
As the seemingly never ending barrage rained down Roman succumbed to the inevitable and went down for a second time.
With barely enough time to catch her breath Roman once again was forced to cover up, as Marston continued to throw massive double handed barrages.
The onslaught proved too much for Roman, who had let her hands drop enough for Marston to land a big right to the head, followed by an equally vicious left to send her reeling against the corner post.
Marston could smell blood and pounced in for the kill, first landing a massive overhand right closely followed by another wicked left hook, which shook Roman to the core.
Then, on the one minute forty seven second mark, just as Marston was about to throw yet another big left to the head of the clearly disoriented Hungarian, referee Ken Curtis jumped in to save the now virtually defenseless Roman from further punishment.
As soon as she realized it was over and she had won, an ecstatic Marston turned towards the legion of fans to her left and made an emotional statement, dedicating her victory to the memory of her mentor Smokin' Joe Frazier.
For full event report go to: http://philboxing.com/news/story-82935.html
Please support Marianne's sponsors – click links below image:

JT CLARKE LONDON – BOXFIT UK – OPTIMAX
Save