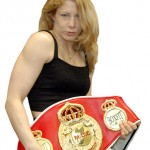 These days there are many sports people seeking sponsorship. Some offer a good return – publicity and  promotional wise – but rarely does an opportunity arise, other than that of the big stars of the sport, that  is guaranteed to produce the level of exposure that Marianne 'Golden Girl' Marston generates
Marianne 'Golden Girl' Marston, the protégé of late great Heavyweight Champion of the World  Smokin' Joe Frazier, is proving to be one of the most explosive, exciting female boxers in the World today.
The spectacular nature of her early wins, by first round knockouts, bought Marianne to the attention of various Championship organisations, with the World Boxing Union, World Boxing Federation and the MBC International each offering Championship bouts after just two professional bouts.
These Championship organisations' desire to have Marianne challenging for their titles would come as no surprise to many in the boxing world, as some of the sport's biggest names, both in the UK and America, have publicly declared what an exceptional and exciting talent she is, as well as a future World Champion.
On Saturday 25th October 2014, the journey to being crowned WORLD CHAMPION took a major step forward, as Marianne conclusively beat Hungarian #1, European #3 and World #31 ranked Marianna Gulyas for the MBC International Super Bantamweight Title.
This win cemented Marianne's position as #1 in the United Kingdom, both at her weight and also Pound for Pound, as well as see her move into the #3 position in Europe and more importantly #24 in the World.
On the 29th August 2015 strengthened her right to challenge for a World Championship further with a sensational second round stoppage win over Jekaterina Lecko, which secured her the #15 slot in the World Rankings.
On the 22nd October 2016, Marianne will be making her first challenge for a World crown, against South Africa's Bokiwe Nonina, no let me correct that, Marianne will be challenging for not one but will be aiming to unify FOUR World titles when she fights for the WBF, WBU, WBC and UBO World Super Bantamweight Championships.
If you may be interested in supporting Marianne on her quest to be crowned World Champion please go to her on-line sponsorship pack – http://goldengirlboxing.com/ – or e.mail Gianluca Di Caro at GO Sports and Entertainment – gianluca@gosportsandentertainment.co.uk or call him on 07789 364702