Category: Uncategorized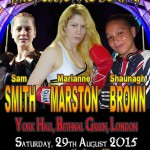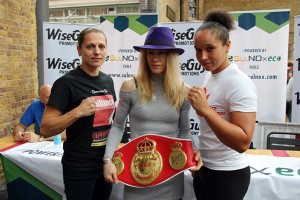 Let's Hear It From The Girls – Marston, Smith & Brown Presser Quotes
There was more than a hint of glamour at the recent press conference, for the upcoming Mark Lyons and Billy James-Elliott promoted LORDS OF THE RING II event, which took place at The Square Pie in Spitalfields Market, as all three female boxers that will be taking part were in attendance, along with other boxers that will be competing at this historic event.
LORDS OF THE RING II has secured it's place in the history books of the sport as this will be the first professional boxing event, in the UK, to feature three female combatants.
The first to speak was Team GB athlete Shaunagh Brown, from Peckham, London, a successful athlete in three disciplines, Shot Putt, Hammer Throw and Discus, who makes her professional debut on August 29th.
"I'm excited to be making my pro debut next week, I can't wait.
I've always worked hard to prepare for a competition, but the work you have to do as a boxer is another level altogether.
My coach Mark (former Commonwealth Champion Mark Reefer) has been brilliant, I've learned so much from him, he really has made this move from athletics to boxing much easier than it should have been.
I'm just looking forward to getting in the ring now and do just what Mark has taught me to do"
Next to speak was Leeds, Yorkshire's Sam Smith, who recently beat Zsofia Bedo to secure the International Masters International title, on just her third professional bout.
"It's been a long journey to get here today but it's been worth it, it's been my dream to fight at York Hall one day and now I am.
This has all happened so fast, I fought on August 2nd and was going to take a week off from training, but when Lee (former Irish Champion Lee Murtagh) said he could get me on the show that went straight out the door, I had to take it, so just took a couple of days off and then straight back in the gym to get ready.
I'm ready and raring to go, can't wait."
Finally British #1 and reigning MBC International Champion, Woolwich, London's Marianne Marston took to the mike.
"I would not only like to thank Mark and Billy (promoters Mark Lyons and Billy James-Elliott) for giving myself the opportunity to fight on their August 29th show, but also thank them for unwavering support of Women's boxing.
It's an honour to be involved in such an historic event, have to say though it's been a rather long time coming.
Everyone expected that Women's boxing would take off here, after the success of the sport at the London 2012 Olympics, but it's only now that it is, although saying that I must stress that this is only possible because of the MBC (Malta Boxing Commission), as they are the only pro organization operating in the UK that actively encourage and support Women's Professional Boxing.
Hopefully this is the start of big things for us, last year we had myself and Angel (McKenzie) fighting on the same show, now we have Sam, Shaunagh and myself all fighting on the same event, hopefully by this time next year we will create even more history with an all female event.
I can't wait to get back in the ring, it's been nearly ten months since I last fought, which is way too long.
I'm pleased to say that the injury that stopped me fighting earlier in the year is now healed, so I have been able to train fully for next Saturday's fight.
We're all hoping that there will be some good support from the fans, not only is it the new season opener and the first chance to catch some boxing action in the Capital after the summer break, but also it's the first time ever that there are three Women's boxing bouts on a pro show.
So get your tickets now, this is definitely a not to be missed show."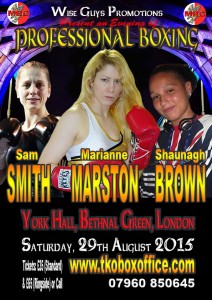 The Mark Lyons and Billy James-Elliott Wise Guys promotions LORDS OF THE RING II event will take place at York Hall, Bethnal Green, London on Saturday 29th August 2015.
This event is sanctioned courtesy of the Malta Boxing Commission (MBC) www.maltaboxingcommission.com
Tickets, priced £35 (standard seated) and £65 (Ringside) are available from any of the boxers taking part, on-line at www.tkoboxoffice.com and www.wiseguypromotions.com or call 07960 850645 or 07807 282559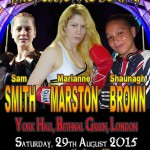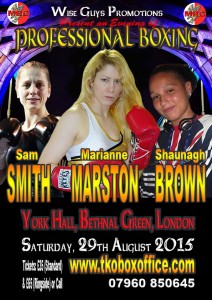 Female Boxing: Marston, Smith and Brown In Action In London, Aug 29th.
Promoters Mark Lyons and Billy James-Elliott today announced that they have added two further Female professional bouts, in addition to the one already on the card, to their upcoming LORDS OF THE RING II event, which takes place at the famous York Hall in Bethnal Green, London on Saturday August 29th.
Heading up the female contingent on the Capital City's new season opener, is British #1 ranked (Super Bantamweight & Pound For Pound) and reigning MBC International Super Bantamweight Champion Marianne Marston.
This will be the first chance for Marston's fans to see her in action this year, as she suffered a relapse to the severely damaged piriformis muscle she tore during the buildup to the WBU European title challenge against Hana Horakova in March last year.
Marston will be looking to be on her best form, now the injury is completely healed, as the Londoner has been lined up to challenge for a World title later this year.
Joining Marston on the LORDS OF THE RING II event will be unbeaten Lightweight Sam Smith from Leeds and a fellow Londoner Shaunagh Brown, who will be making her professional debut.
Smith, who fights out of the Bethlehem Gym in Leeds, has made quite a statement, since turning pro in March this year, scoring three stoppage wins as well as already securing her first Championship accolade, when she beat Zsofia Bedo by third round stoppage to secure the International Masters Bronze Lightweight title.
Making her professional debut on the event is Team GB Athlete Shaunagh 'The Hammer' Brown from Peckham, South London.
Brown, who is coached by former Commonwealth Champion Mark Reefer at the Champions TKO gym in Hackney, has enjoyed enviable success throughout her athletics career, including winning the Gold medal (Discus) at the ESAA Championships in both 2005 and 2006, Silver at the AAA U20 Championships also in 2006.
At the England Athletics U20 Championships in 2008, Brown secured not one but two medals in different disciplines, Gold for the Discus and Silver for the Shot Put. In 2009, at the Aviva England Athletics U20 Championships, Brown then added the Gold Medal for Shot Put to her collection.
Speaking earlier promoter Mark Lyons made it clear he and his business partner Billy James-Elliott are elated to be at the forefront of Women's boxing in the UK,
"This is the new season opener for boxing in London and we decided that new season, new start so what better than to bring to the fore some of the magnificent female fighters we have in this country.
Without doubt it's about time there were more female fights in the pro ranks, over the past few years about the only British female fighters that have seen regular action are Marianne (Marston) and Angel McKenzie, but now with Sam (Smith), Shaunagh (Brown) and others such as Juliette Winter coming on board, Women's boxing can really start to gain some momentum.
It's unheard of to have three female bouts on a pro event in the UK, after the 29th August hopefully this will no longer be the case and we get to see these young women in action, as well as getting the media coverage they deserve.
Marianne has more than proved she is Championship level and rightly has earned a shot at the World title later this year and I don't doubt for one minute that Sam will also be challenging for major titles in the near future too, as will Shaunagh.
Shaunagh has enjoyed success in the sporting arena previously, Discus, Shot Put and Hammer Throwing, both Nationally and Internationally, the girl's a winner and am sure she will be just as successful as a boxer as she was is in her other chosen sports.
It's going to be a great event, besides the three female bouts, there's a lot of great fights lined up that feature some top fighters, such as WBF World Champion Chris Goodwin, former Team GB star Iain Weaver and Jimmy Campbell, Jimmy has been in with the best of his division, such as World Champions Anthony Dirrell and Virgil Hill.
On top of that we have a card rammed with upcoming young talents, as well as some future stars making their pro debuts, so it definitely is an event that caters for all boxing fans, young, old, male or female there's something for everyone."
The Mark Lyons and Billy James-Elliott Wise Guys promotions LORDS OF THE RING II event will take place at York Hall, Bethnal Green, London on Saturday 29th August 2015.
This event is sanctioned courtesy of the Malta Boxing Commission (MBC) www.maltaboxingcommission.com
Tickets, priced £35 (standard seated) and £65 (Ringside) are available from any of the boxers taking part, on-line at www.tkoboxoffice.com and www.wiseguypromotions.com or call 07960 850645 or 07807 282559.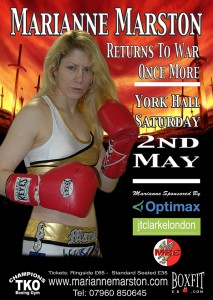 Marston: Aiming For A Big Win On May 2nd – Tell O'Connell I'm Coming For Her Title Next
British #1 and reigning MBC International Super Bantamweight Champion Marianne Marston is set to return to the York Hall in London's East End, the scene of her sensational Championship securing victory over Marianne Gulyas late last year, in a few weeks time, where she will face a yet to be named opponent on the Mark Lyons & Billy Elliott promoted LORDS OF THE RING event on Saturday 2nd May 2015.
Back in October Marston utterly dominated proceedings against the then Hungarian #1, European #3 and World #31 ranked Gulyas to secure the vacant MBC International Super Bantamweight title.
From start to finish it was the slick British southpaw that took the fight to her much vastly more experienced opponent, aggressively going forward, utilizing her sharp jabs and stinging lefts to great effect.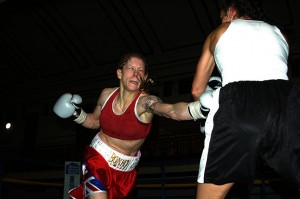 Throughout Marston appeared to be able to pick off her opponent at will, in doing so left Gulyas no option but to defend on the retreat.
During the bout, which was fought at a frenetic pace, Gulyas visited the canvas no less than seven times, however only two of these were counted as knockdowns by referee Alf Sprung, who waved the others off as slips or pushes.
After ten scintillating rounds of boxing, Judges Ben Doughty (UK) and Matt Hamilton (South Africa) scored the bout 100-89 whilst judge Lee Murtagh (UK) scorecard read 99-88 all in favour of Marston.
The superb shut out victory rocketed Marston up the rankings, as well as earned her a World title shot, against reigning WIBA Champion, Australia's Shannon O'Connell, which will take place later this summer.
However it is the upcoming bout that Marston is currently focusing on, as she made clear when she spoke earlier.
"I'm really looking forward to fighting again, especially back at York Hall.
It's close to six months since I won the title, I have to admit I hoped to be out much earlier this year, but for one reason or another that just didn't happen.
If I had I would have either defended the MBC title or fought for the WBU European title again, but with the World title fight coming up this summer it was decided that rather than having all the pressure that comes with a title fight, we would find an opponent with a similar style to Shannon (current WIBA World Champion Shannon O'Connell) to fight on May 2nd so we could use this as a seriously testing dry run as such.
I know I won every single round against Marianna (Gulyas) but her style is very different to Shannon's, luckily though my main sparring partner is Ian Napa, Ian is so experienced and can box in any style, which is great as we know can prepare properly for both Shannon and my May 2nd opponent.
Ian's brilliant, having someone that's been there, done that and has the t-shirt to prove it, I honestly believe it's his input to my preparations that makes all the difference, I mean he's won both the British and European titles twice as well as fought for numerous titles, so really knows what is needed.
It also helps that I have a great experienced team around me, my coach Brian O'Shaughnessy really has bought me on, now instead of being more or less one dimensional in my approach I'm now fully rounded and can box in any style, even on the back foot, which is something I always found hard to do.
Mind you when you're sparring people like Ian (Napa), Sunny (Edwards) and Ian Bailey all the time, you need to be able to adapt, so some of the praise has to go to them also.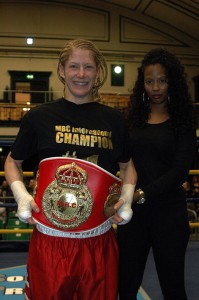 I've really enjoyed being the MBC International Champion, winning the title has affected me in such a positive way, can't explain it, but it's like I'm a different fighter now, maybe that's just the confidence of knowing I can go ten rounds with a World ranked fighter and not just hold my own, but beat them.
Now I've got to use this to my advantage, first I have to beat whoever it is I'll be fighting on May 2nd and then of course Shannon when I challenge for her title.
I know I said this before, but when my career comes to an end, I want to be remembered as a boxer that had good skills, a proper Champion, not someone that just coasted through their career.
I want real fights, meaningful fights, believe me I'm not looking at May 2nd being a warm up or anything like that, I want to make a huge statement on May 2nd, I want Shannon to worry about the Marianne that will face her this summer, I want her to know I'm coming to take her title from her."
Marianne Marston, against a yet to be announced opponent, features on the Mark Lyons & Billy James-Elliott Wise Guys Promotions LORDS OF THE RING event, that takes place at the York Hall in Bethnal Green, London on Saturday 2nd May 2015.
Sanctioning for this event will be provided courtesy of the Malta Boxing Commission (MBC) – www.maltaboxingcommission.com
Tickets priced £35 (Standard seating) and £65 (Ringside) are available direct from Marianne or any of the boxers taking part, from the Ringtone Gym in Euston, London, on-line at www.mariannemarston.com and www.tkoboxoffice.com or call 07960 850645